4 min ago
First exit polls: California voters say coronavirus is most important issue
From CNN's Ariel Edwards Levy
The coronavirus pandemic remains at the top of voters' minds, with about one-third saying it's the biggest issue for the state, according to a California exit poll conducted for CNN and other news networks by Edison Research.
That's followed by just over one-fifth saying homelessness, one in six saying the economy and wildfires, respectively, and slightly under one-tenth saying crime.
Concerns vary across partisan lines: more than four in 10 Democrats call coronavirus their top issue, while only about one-fifth of Republicans say the same. On the flip side, Republicans are more than three times as likely as Democrats to name the economy as their top concern.
Voters have mixed outlooks on the pandemic's course in California, with about four in 10 saying the situation is getting better, three in 10 that it remains about the same, and just under one-quarter that it's worsening.
Women make up slightly more than half the electorate in the California recall, just as they did in the 2020 presidential election and the 2018 gubernatorial race. White majorities narrowly make up the majority of the electorate, the exit poll data finds, with the remainder people of color. In 2020 exit polling, about half the electorate was White; in 2018, it was 63%.
Note: The California CNN Exit Poll is a combination of in-person interviews with Election Day voters and telephone and online polls measuring the views of absentee by-mail and early voters. It was conducted by Edison Research on behalf of the National Election Pool.
In-person interviews on Election Day were conducted at a random sample of 30 California polling locations among 2,356 Election Day voters. The results also include 1,352 interviews with early and absentee voters conducted by phone, online or by text. Results for the full sample have a margin of error of plus or minus 3 percentage points; it is larger for subgroups.
CNN's David Chalian has more:
36 min ago
These are the top candidates running to replace Gov. Gavin Newsom in California's recall election
From CNN's Veronica Stracqualursi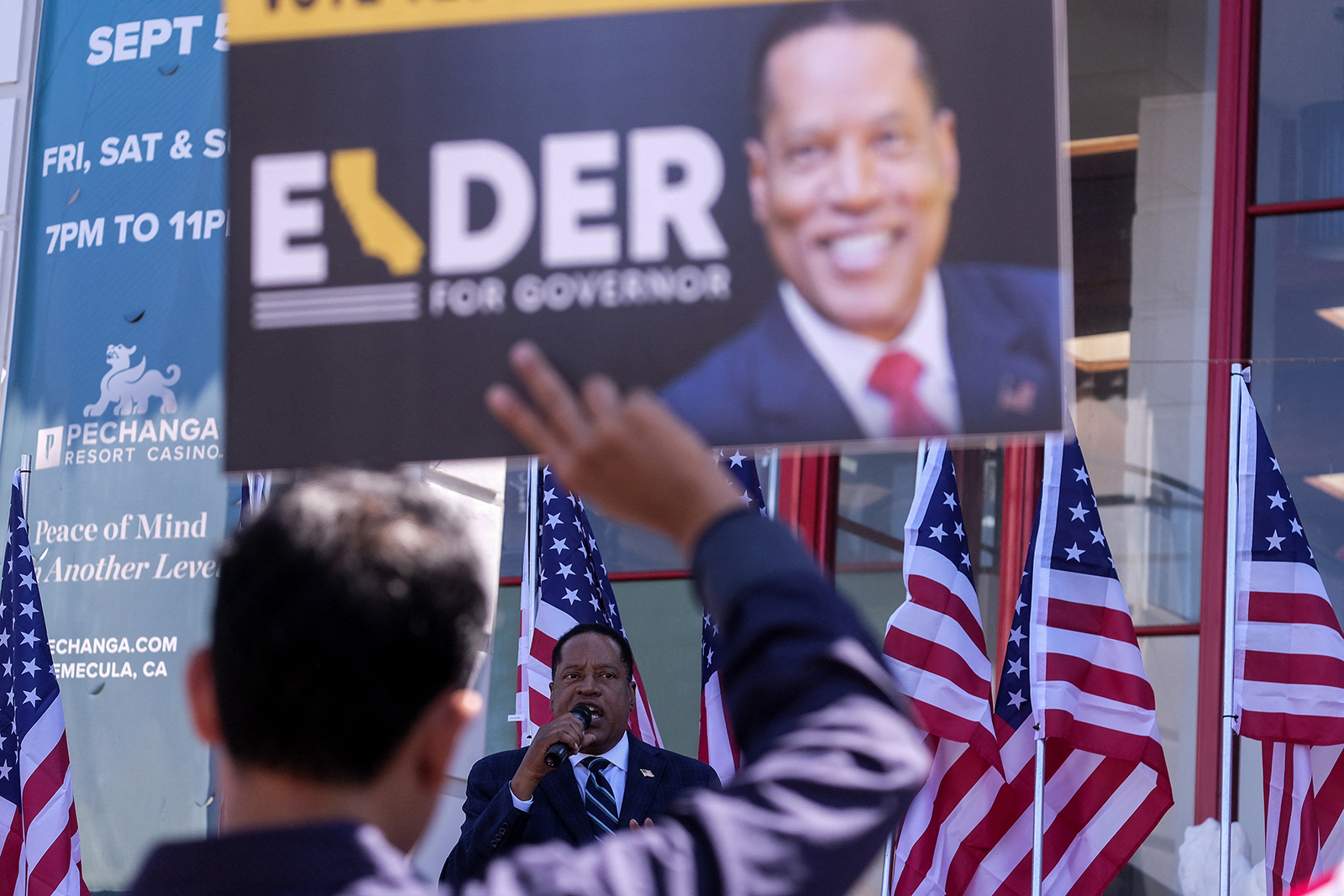 Republican gubernatorial candidate Larry Elder speaks to supporters during an Asian Rally for Yes Recall at the Asian Garden Mall in Little Saigon, Westminster, California, on September 4. (Ringo Chiu/AFP/Getty Images)
A colorful cast of more than 40 candidates from all political persuasions are vying to replace Democratic Gov. Gavin Newsom in California's recall election, but only a handful have managed to break through the pack.
If a majority of California voters vote "yes" to the recall, Newsom will be out of office and the top vote-getter on the ballot's second question – about who should replace Newsom – will take over.
These are some of Newsom's most notable challengers:
Larry Elder:
Newsom's leading Republican replacement appears to be conservative talk show host and attorney
Larry Elder
, who would be California's first Black governor if he wins the recall election. Elder's rise has come with heavy scrutiny — even calls from fellow GOP recall opponents to drop out of the race — because of his long history of disparaging remarks about women. He has also been
accused of domestic violence
and of brandishing a gun in 2015 by his then-fiancée and former employee Alexandra Datig. Elder has denied the allegations. Like his rival Republican recall candidates, Elder would repeal Newsom's Covid-19 mask and vaccine mandates for state workers, who must either be vaccinated or tested weekly for the virus.
John Cox:
The Republican San Diego businessman has been successful in generating headlines, including when he was
served with a subpoena
while onstage during the Aug. 17 debate. Running as a political outsider, Cox has never held office before and lost badly to Newsom in 2018 when he challenged the Democratic governor, who won with more than 60% of the vote. Cox opposes California's Covid-19 vaccine mandates and mask requirements. During a
debate
early in August, he called Newsom's handling of the pandemic "an absolute disaster" that "resulted in far more danger and far more problems." His plan to end California's homelessness problem is to force the state's unhoused population to receive mental health and addiction treatment before being provided housing.
Kevin Faulconer:
The former San Diego mayor has the experience of being elected to lead a Democratic-majority city as a Republican, which he has touted as an asset to governing the blue state of California. He has proposed $1 billion in annual wildfire prevention funding, an exemption for military retirees from income taxes, a cut in the marginal tax rate to 0% for the first $50,000 earned by individuals, and the first $100,000 earned by families, who make less than $1 million a year.
Caitlyn Jenner:
Jenner
created a lot of buzz
around her candidacy early in the race, given her celebrity status as a former Olympic athlete and reality television star. But ever since, the Republican candidate has had to defend herself from criticism that she's not a serious candidate for governor. Like Elder, Jenner has declined to appear at debates, saying she will not debate fellow recall candidates unless Newsom is present. In an interview with CNN's Dana Bash, Jenner said she
favors a path to citizenship
for the 1.75 million undocumented immigrants in the state's labor force. She also
opposes
transgender girls participating in girls' sports and said she would consider changes to environmental regulations in California.
Kevin Kiley:
First elected to the California State Assembly in 2016, the Republican state lawmaker has made a name for himself as one of Newsom's "
chief antagonists
" in the legislature. Kiley has proposed ending California's state of emergency for the Covid-19 pandemic. Asked about school mask mandates for children during one of the debates, Kiley
argued
that parents "know what is best for their kids" and should be making decisions themselves.
Kevin Paffrath:
This Democratic candidate hoping to replace Newsom, despite Newsom and Democratic leaders urging their party's voters to simply vote "no" on recalling the governor and leave the question of who should replace him unanswered. A real estate broker who built a following of 1.7 million subscribers on his YouTube channel, Paffrath describes himself as a "JFK-style Democrat who can work with our Democratic legislature."
Read more about the candidates here.
1 hr 20 min ago
It is 3 p.m. in Los Angeles and polls remain open. Here's what to know about the recall election.
Analysis by CNN's Zachary B. Wolf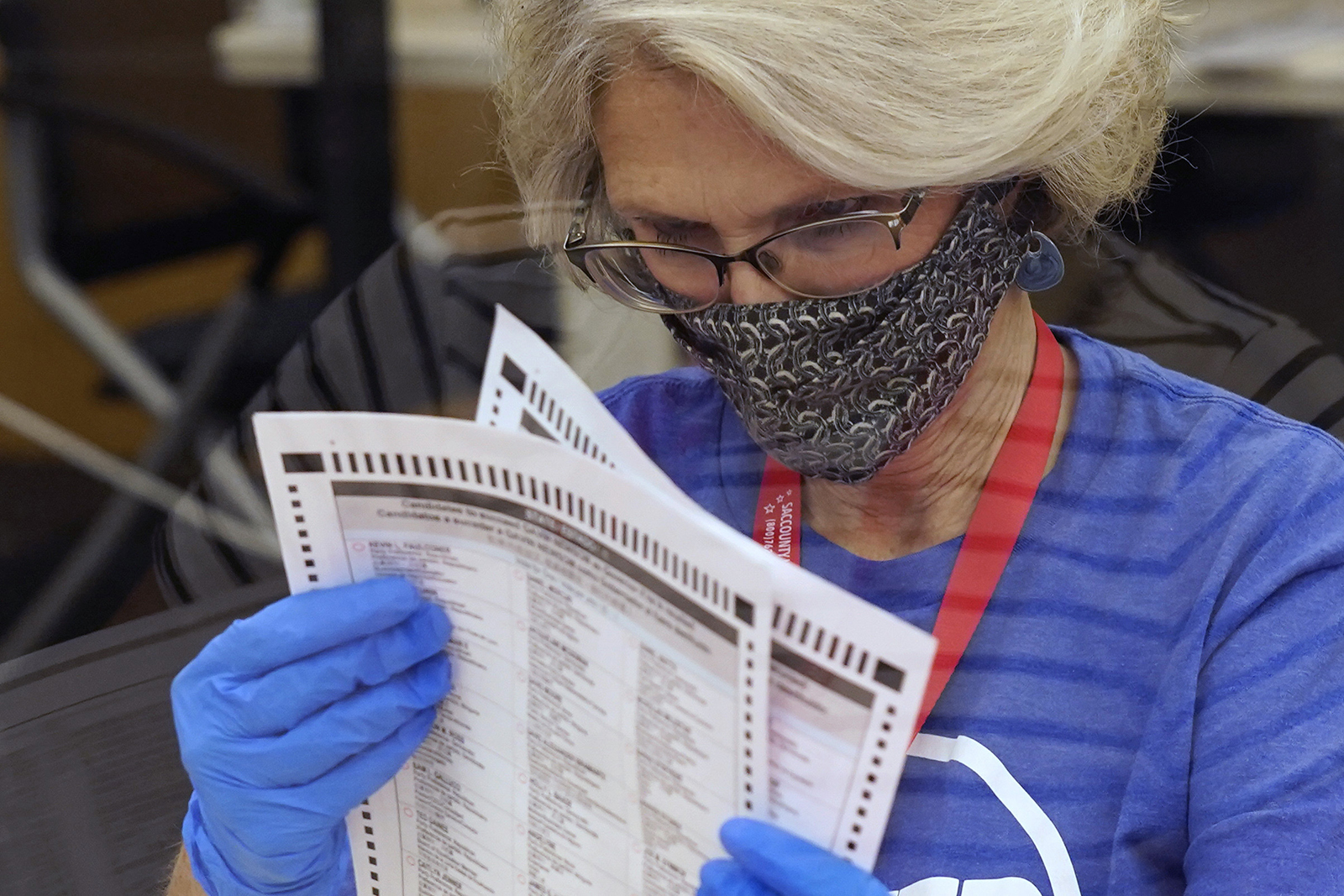 Gerri Kanelos inspects a ballot for damage before they are sent to be tabulated at the Sacramento County Registrar of Voters Office in Sacramento, California on Tuesday, September 14. (Rich Pedroncelli/AP)
The internet is full of 101s, FAQs and explainers about what's going on with the California gubernatorial recall election, in which voting concludes today. Polls are set to close across the state at 8 p.m. PT. (11 p.m. ET).
It's a bizarre situation in which a deep blue state could throw out its Democratic governor and replace him with a conservative talk show host in a proxy fight over how Covid-19 and other issues – like homelessness – have been handled.
So I'll put the bottom line at the top of this story:
If Gov. Gavin Newsom survives this recall effort, it will raise serious questions about whether the recall system, expensive and distracting, should be reformed.
If Newsom is removed from office, it will be an off-the-charts earthquake that shakes Democrats in every part of this country, who could view this California fight as a test of their national message of responsible Covid-19 restrictions and good governance over personal freedom.
This is happening because Newsom's GOP opponents, early this year, sensed weakness in Newsom over Covid-19 restrictions and after a moment of hypocrisy when he was photographed out at a fancy dinner while Californians were being told to stay in.
They did it by utilizing the often-attempted recall provision in the state's Constitution to gather more than 1.5 million signatures and force a recall, although that's a small portion of the more than 12.4 million who voted in the 2018 governor's race.
The campaign started when the signatures were certified in July, triggering a recall campaign.
Voting has been going for weeks. Every voter in the state was sent a ballot to return by mail, so people have been voting for a month. There's also in-person voting today.
Voters will be asked two questions: 1) Should Newsom be recalled? and 2) If so, who should replace him? He does not appear as an option on the second question.
What Democrats are telling supporters. They have not fielded a sanctioned party alternative, instead going all-in on encouraging people to oppose the recall.
What Republicans are telling supporters. There are scores of people running on question two, but Republicans, if polls are accurate, have migrated to the radio talk show host Larry Elder, who opposes most Covid-19 restrictions.
Delta changed the course of the election. Since the recall took off earlier this year, the Delta variant has flared in the US, shifting public opinion on Newsom's handling of the virus.
Democrats sought to nationalize the race. They wanted to focus voters on their frustrations with the national GOP and not Newsom.
Republicans are helping them. They've laid groundwork to argue, without evidence, the result is flawed, just like they did with the 2020 presidential election. This is becoming a pattern. It is not OK.
Read the full article here.
1 hr 47 min ago
For these young Californians, the recall election brings an opportunity to vote for the first time
From CNN's Rachel Janfaza
For some 18-year-olds, today's California recall election will be an opportunity to cast a ballot for the first time.
On both sides of the aisle, newly-eligible voters told CNN they were eager to participate in the special election to decide Democratic Gov. Gavin Newsom's fate.
For her part, Camille Colker was frustrated when she missed the ability to vote in the 2020 presidential election by just two days.
So when Colker — who turned 18 on Nov. 5, 2020 — received her mail-in ballot for the recall, she jumped at the opportunity to return it.
Colker voted "no" on the recall, citing environmental justice, pandemic response and misinformation as the issues "at stake," in Tuesday's election.
"I felt excited to be voting, but also incredibly pressured," Colker said, given what she described as the seriousness of each of these issues.
Likewise, Victoria DaSilva, who turned 18 in March, said she was "excited there was an opportunity" to vote "so soon," as she thought she would have to wait until the 2022 midterms to cast her first ballot.
"I was so happy that I was able to finally participate in government because I just feel like it's so important to be an active member in our government," said DaSilva, who is from Manhattan Beach and an incoming freshman at University of California at Los Angeles (UCLA). "Even though it was just one question, I was glad to be able to make my voice count a little bit."
DaSilva, who voted "no" on the recall and returned her ballot Monday, said she has always "taken for granted" living in a Democratic state and worries that Tuesday's election "could turn that around."
Meanwhile, Jerri Lopez, who turned 18 in May, said voting in the recall election was "an awesome experience."
"I couldn't vote in this past presidential election, which really bummed me out, so I was thrilled knowing I could vote in the recall," said Lopez, a San Diego native and freshman at University of Southern California.
Lopez voted "yes" to recall Newsom and told CNN that "overall unity in California is at stake in this recall."
She said she worries about "strict" mask mandates, vaccine mandates and "potentially another shut down in regards to Covid" if Newsom were to stay in power.
Lopez voted to replace Newsom with Republican candidate Larry Elder.
And while Marin Ruiz, who is 19, voted for the first time in the 2020 presidential election, she said the recall provided her with "the most exposure and first-hand experience" she's had so far to the Republican Party.
"This recall feels more real to me personally, just because I feel like my vote counts more than in a presidential election. It literally hits closer to home," Ruiz, who is the president of the University of Southern California College Republicans, told CNN.
"Californians have experienced the effect of policies first hand during the past year," Ruiz said, adding that unemployment, crime rates, school closings and mask mandates are all issues at stake in the recall.
Last weekend, Ruiz knocked on doors to get out the vote in San Bernardino, California, where she met Elder.
3 hr 1 min ago
This is what it's like inside a San Francisco voting center
From CNN's Janelle Davis
CNN's Josh Campbell is inside San Francisco City Hall, one of the voting locations and ballot processing centers.
In the voting center, voters can ask questions and drop off their ballot in person. Right now, the area where voters line up is empty. Authorities say it's likely because of two reasons:
First, people voted by mail. Second, they're waiting to come vote after work.
In the ballot processing center, the ballot counting is already underway. The ballots are coming in from the postal service from precincts across the city. This part of California, around San Francisco and the Bay area, is very blue. President Biden won by a wide margin and Gov. Gavin Newsom had a comfortable lead in last election. Newsom is from the Bay area. Democratic consultants say they're focusing on the turnout to offset red surges in other regions.
For more from our reporters in the field, and to watch Josh Campbell's @CNN's Instagram story, click here.
3 hr 37 min ago
More than 9.1 million pre-election ballots have been cast in the California recall
From CNN's Ethan Cohen
According to updated data from Edison Research, more than 9.1 million pre-election ballots have been cast in the California recall.
Total ballots cast as of Sept. 13 is 9,109,956.
That's about 51% of the total votes cast in the state in 2020.
About 52% of the ballots for which Edison has data on party were cast by registered Democrats and 26% were cast by registered Republicans.
4 hr 23 min ago
Here's when to expect results tonight, according to a CNN reporter
From CNN's Janelle Davis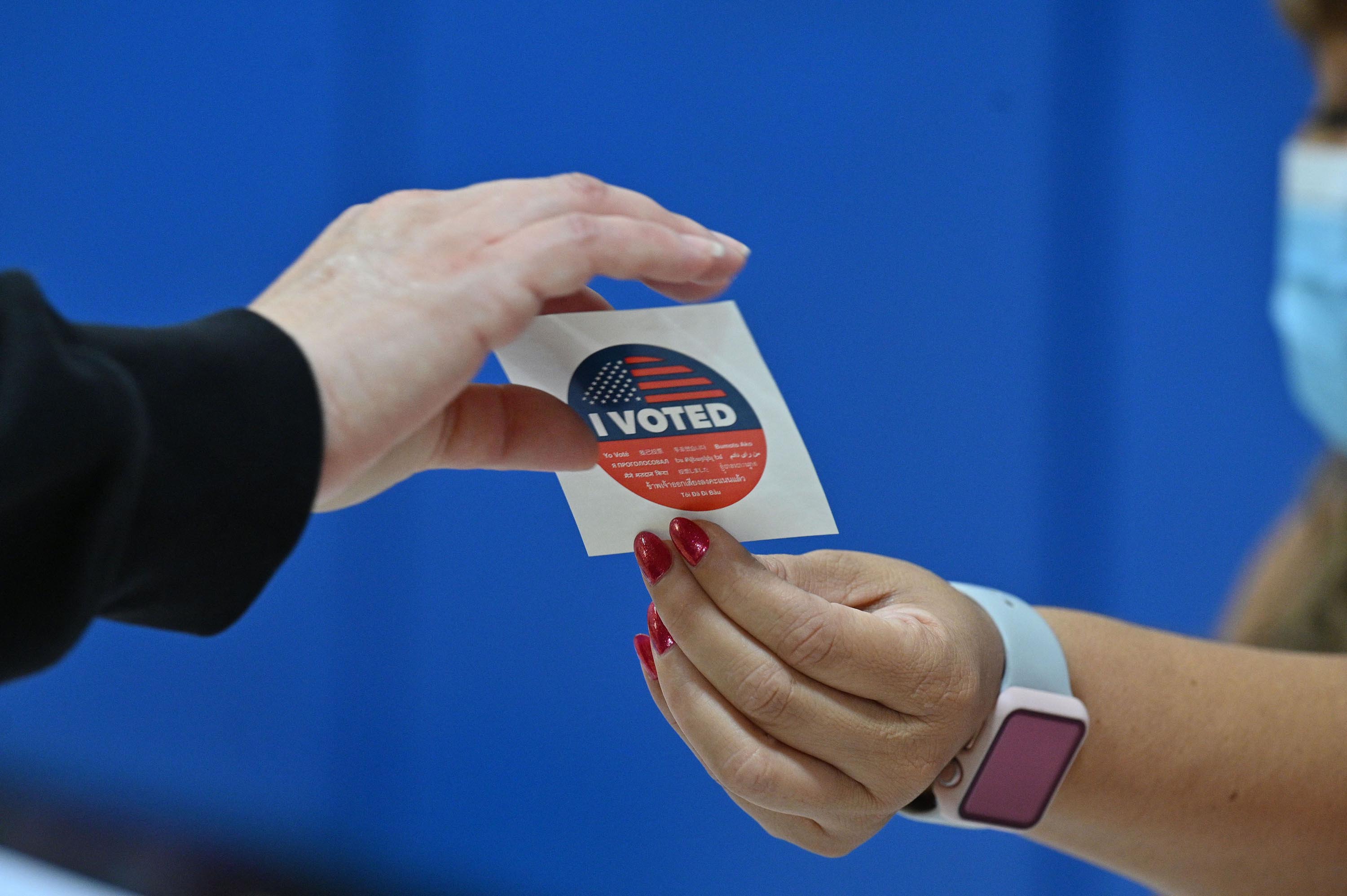 Robyn Beck/AFP/Getty Images
Polls in California are set to close at 8 p.m. PT — or 11 p.m. ET — tonight. CNN's National Political Reporter Maeve Reston is covering the race and says the first drop of ballots, from early voting, will come right after the polls close.
"We already know what a lot of those are. We know they'll be heavily Democratic. A lot of those people are Democrats who voted early," she explained.
After this "blue drop," you'll see more Republican votes as in-person ballots come in, Reston said.
California is famous for taking forever to count because there are just so many ballots to be counted. People are expecting this to be a decently high turnout election — even though it's a special election in the middle of September.
Also remember, there will be the "after count," which includes the mail-in ballots that were stamped on Election Day, but are received up to seven days after the election. In some recent elections, as much as a third of the total ballots cast were counted in that after count.
So be ready for:
First, a blue drop of early votesThen, a red wave of people who voted in-personFinally, the mail-in ballots that are received and counted
Watch more from Reston:
4 hr 22 min ago
No, California isn't the only state with recalls: CNN answers your Election Day questions
From CNN's Janelle Davis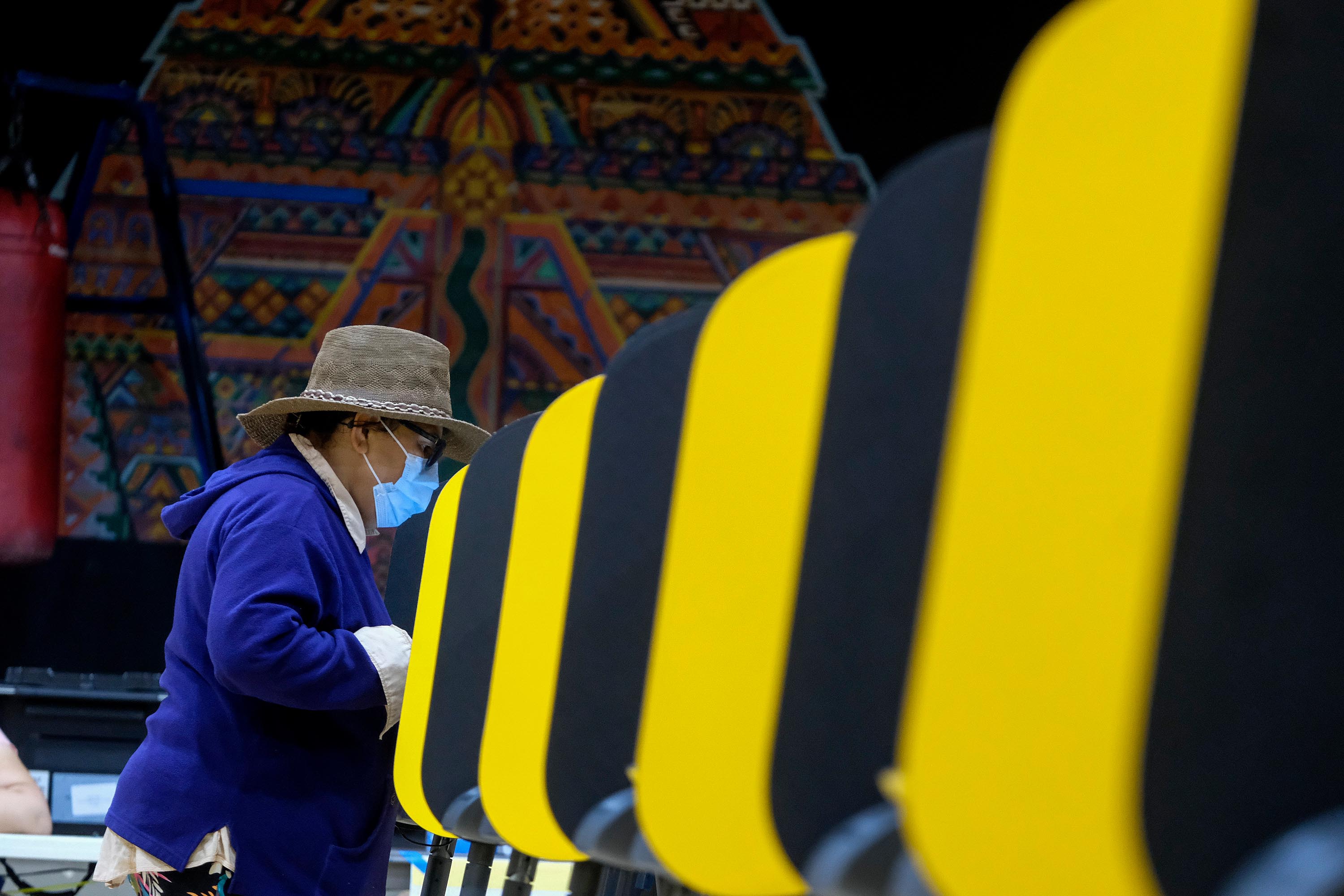 Ringo H.W. Chiu/AP
CNN's National Political Reporter Maeve Reston is in California ahead of today's special election to decide whether to remove Democratic Gov. Gavin Newsom.
She's answering some readers' most-asked questions — here's how she puts it:
Is California the only state to have gubernatorial recalls?
No, many other states do as well, but they all have very different rules. The rules in California are very quirky. The proponents of the recall had to gather 1.4 million signatures last year, and they got a huge boost from a judge who gave them four extra months to collect the signatures. At the time, there was a lot of anger at Newsom for what a lot of people thought were shifting Covid-19 regulations and frustration about his closure of the beaches and school.
California does have a lower bar for recalls than other states. There are some people who are looking to change those rules after all of this is over.
Are the polls predicting that Newsom will be recalled?
Newsom is looking safer in a recent poll. Of course, we don't know until all the votes are counted tonight. It was tight in late July and early August — It looked like it was like a 49-51 split on the recall.
Since then, Newsom's team plunged millions and millions of dollars into ads and their ground game. And now they're feeling safer. The most recent polls show Newsom having a much more comfortable lead on the recall question, with more voters saying no to the recall.
But it comes down to turnout. Republicans are hoping for a really high turnout on Election Day.
A lot of the ballots are already in. About 8.4 million ballots have been mailed in. A lot of those ballots have been from Democrats so far. We expect that because these days Republicans prefer to vote in person, particularly because of some of the concerns that former President Trump raised about mail-in ballots. So, we'll have to see where that lands tonight.
Polls close at 8 p.m. PT.
How did this start in the first place?
A small group of conservatives got this going early last year because of Newsom's positions on immigration, taxes, the death penalty and other issues.
But then, as Covid-19 restrictions went into effect, things really started to heat up. Parents, business owners and restaurant owners were getting really frustrated with Newsom's Covid rules.
Then he made an infamous visit to The French Laundry, an exclusive restaurant in Napa Valley. He was unmasked at a birthday party being held for a lobbyist. At the time, Newsom had been telling Californians to stay home, wear a mask and avoid large gatherings, and some viewed this as hypocrisy.
Watch more from Reston:
2 hr 27 min ago
5 key areas to watch in the California recall
From CNN's Maeve Reston
With all eyes turning to California on Tuesday to see whether Gov. Gavin Newsom is recalled, a few places within the Golden State could offer some early clues — not only about whether the Democratic governor can keep his job — but also what the political climate might look like next year in a state where Republicans picked up four House seats in 2020.
Republicans' best scenario for ousting Newsom in this overwhelmingly blue state has always been outsized GOP turnout and low Democratic turnout. That's because registered Democrats outnumber registered Republicans by nearly 2 to 1.
All of the state's 22 million registered voters were mailed ballots last month. All counties were also required to make one or more early voting locations available for at least four days beginning the Saturday before the election, and many kept them open longer.
So there's already significant data about who's casting votes. Republicans are hoping for a massive Election Day turnout that could tip the scales.
But so far, Democrats have been more engaged than expected. About 53% of ballots cast so far have been from registered Democrats and 25% from registered Republicans, according to Political Data Inc., a firm that does work for Democratic candidates, progressive organizations and nonpartisan campaigns. That means Democrats are still outperforming their registration level in the state.
But to see whether that turnout advantage holds (and translates into Newsom's survival), here are some specific places to watch on Tuesday.
The Big Blue areas where Democrats must performOne-time GOP strongholdsFlipped districtsThe Central ValleyLA County's and Imperial County's Latino communities
Read more about each place here.